Writer: Hira Ejaz
There are no two opinions that the pandemic not only bolstered the E-commerce businesses but also paved the way for their further expansion in the coming times.
The World Trade Organization (WTO) defines e-commerce "as a commercial process that includes productions, distribution, sales or delivery of goods and services through the electronic means."
What gives e-commerce an edge over brick-and-mortar stores is that it goes beyond traditional commerce. It permits the electronic trade of commodities/goods, money, and information between computers.
Our 6D entrepreneurship model specially crafted for e-commerce platforms helps our clients in 6 highly targeted areas which are Amazon, Walmart, eBay, Shopify, Etsy, and Facebook Marketplace. These six platforms make up the largest market share for e-commerce in the world and we ensure our clients get the best head start in this domain.  Read on for more details about each of these E-commerce platforms.
Amazon (Amazon.com) is the world's largest online retailer and a leading cloud services provider. The company began as a bookseller but has since extended to sell a wide range of consumer goods, digital media, and its own electronic devices. Amazon Web Services (AWS) is a comprehensive, evolving cloud computing platform.
Etsy is an American e-commerce company that operates in handmade or vintage items and craft products. Jewelry, apparel, bags, home décor and furniture, toys, art, and equipment are just a few of the broad range of its categories. Etsy.com is a community of manufacturers, small-business owners, and customers who share a passion for unusual and rare items.
Walmart has earned worldwide recognition in the wake of its seemingly unlimited product categories. Walmart.com is a popular e-commerce shopping destination for many. According to ComScore, It currently has an audience of more than 120 million monthly unique visitors.
eBay is another online shopping site that's famous for its auctions and consumer-to-consumer sales. It's immensely prominent for online sellers to use it as a sales channel. eBay is offered in many different countries. You can, however, search for products available in your local area by entering the zip code.
Shopify is a complete commerce platform where merchants can establish and personalize an online store and sell it over multiple channels, including web, mobile, in-person, brick-and-mortar locations, pop-up shops, social media, and online marketplaces. Shopify is completely cloud-based and hosted, which means you can use it from any connected device.
Facebook Marketplace is a destination where people can search for, buy and sell products. People can browse listings, look for items for sale in their neighborhood or find products that can be delivered.
AMAZON:
Of all the six e-commerce platforms, the online behemoth Amazon has toppled all the others in becoming the top-rated e-commerce sector to have made the most earnings during and post-pandemic times. According to Statista, Amazon's annual revenue reached 45.4 billion US dollars in 2020. In 2021, Amazon reported a net income of 33.36 billion US dollars, up from a 21.3 billion US dollar net income in the previous year. With $263.5 billion in net sales, the United States was Amazon's biggest market in 2020.
In the U.S. alone, Amazon controls 45% of the eCommerce market share.
Amazon's Net Worth stands at $1101 billion ($1.10 trillion) in 2022.  (Western, 2022). "Insider Intelligence forecasts that Amazon's retail e-commerce sales worldwide will reach $729.76 billion in 2022." (Yuen, 2022). According to the Insider Intelligence estimates, Amazon's global retail e-commerce sales are expected to reach $729.76 billion in 2022, increasing 18.8% year-over-year (YoY). The US alone will account for $445.31 billion of that share, making up 41.8% of the country's total retail e-commerce sales.
As per Jungle Scout's 2022 State of the Amazon Seller Report, these are the top categories, including the percentage of sellers who have products listed in them.
Top 10 categories of Amazon
| | |
| --- | --- |
| Home & Kitchen | 32% |
| Beauty & Personal Care | 23% |
| Toys & Games | 20% |
| Clothing, Shoes & Jewelry | 18% |
| Health, Household & Baby Care | 17% |
| Sports & Outdoors | 16% |
| Arts, Crafts & Sewing | 15% |
| Books | 15% |
| Kitchen & Dining | 14% |
| Baby | 14% |
Amazon wields unrivaled dominance and excels in the world of e-commerce on account of several factors, including its lead in logistics, value creation for its customers, and the ease of doing business it offers to both sellers and buyers. Hence, Amazon provides the best channel for entrepreneurs to start a business and sell their niche products.
WALMART:
Another top-rated e-commerce business behemoth is Walmart. Walmart generates annual net revenue of $514.41 billion. A large percentage of Walmart's sales come from brick-and-mortar purchases. Walmart has more than 11,000 physical store locations across 27 countries. Its e-commerce net revenues are generated almost completely in the United States.
Source: https://bit.ly/3z7FLZg
In 2021, Walmart's global net sales stood at $46,446.3m, and it was ranked 4 in terms of global sales.
Fig 1.1
Walmart's top-most selling categories include Electronics & Media, Toys, Hobby & DIY, and Furniture & Appliances. Its revenue generation through these categories is given below: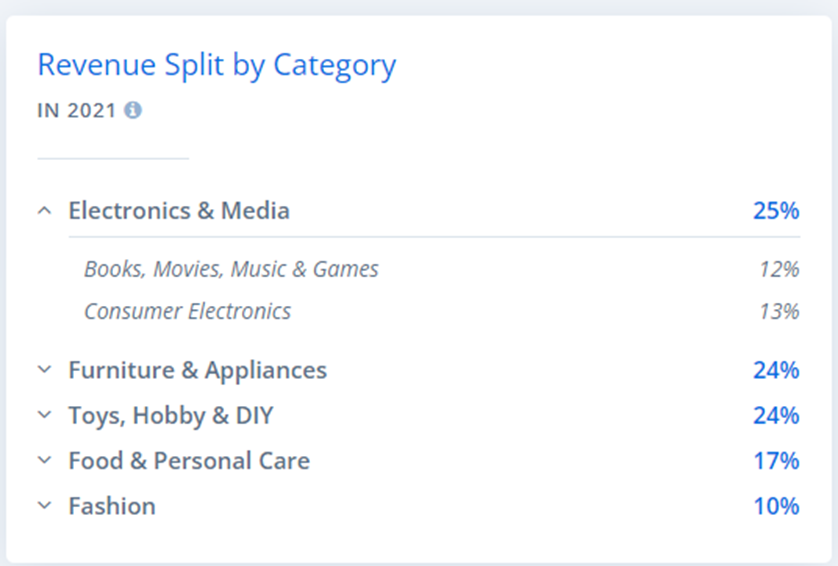 Fig 1.2
Source: Fig 1.1, Fig 1.2, https://bit.ly/3z0w9Qb
In terms of product range, Walmart.com is an all-around online store, with products on offer that cover different categories. This puts the entrepreneurs at ease to select whichever category they want to put their investment in.
EBAY:
eBay is another massive e-commerce platform that competes directly with Amazon for online sales. It trails on as a second top-rated e-commerce business with a $10.4 billion net annual revenue generation in 2021.
A survey was conducted in January 2021 in the United States, in which eBay was found to be the most popular online marketplace among sellers, with a score of 6.48 on a 10-point scale. Results were based on four key areas – profitability, customer service, communication, and ease of use. The sellers were also asked if they would recommend the online marketplace as a selling location.
eBay offers products in a variety of categories, and each category has its best-selling items.
eBay's best-selling categories in 2021:
Baby Products
Business and Industrial
Cameras and Photos
Cell Phones, Smart Watches, and Accessories
Consumer Electronics
Clothing, Shoes, and Accessories
Health and Beauty
Home and Garden
Jewelry and Watches
Musical instruments and Gears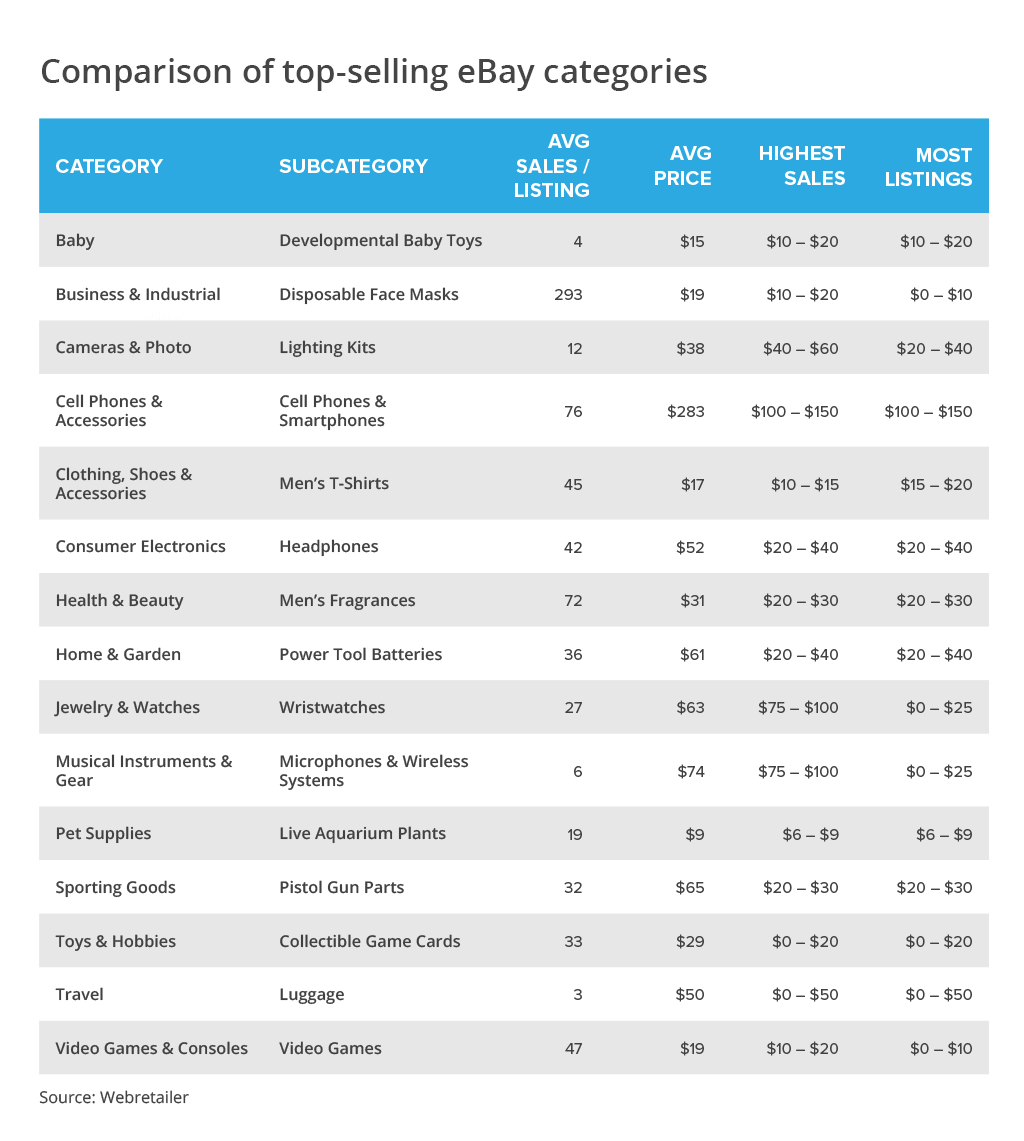 When it comes to reevaluating your product portfolio, eBay categories are an excellent place to start. Understanding eBay's greatest sellers will help you in identifying sales prospects you may not have considered previously. Therefore, investors can select eBay to establish their new business and maximize the growth.
SHOPIFY:
Shopify is a leading provider of fundamental internet infrastructure for commerce. It offers trusted tools to help you develop, grow, market, and manage any size retail business. Shopify improves e-commerce for everyone by providing a platform. Its services are designed for reliability to deliver a better shopping experience for consumers everywhere.
In 2021, Shopify produced net revenue of $4.61 billion, a 57% increase from 2020.  Its gross profit increased by 61% to $2.481 billion in 2021, compared with $1.541 billion in 2020.
Source: https://bit.ly/3LNQXx5
Shopify is an ideal e-commerce platform for entrepreneurs to reach more buyers, establish robust connections with customers, and own their brands proudly. Those looking to develop a long-term internet infrastructure for commerce and streamline commerce operations should turn to Shopify.
ETSY:
Etsy was founded in 2005 and became public in 2015, following a decade of operations. It is currently one of the world's leading online marketplaces.
According to Statista, Etsy's market value was 26.2 billion dollars in June 2021. Etsy's revenue rose at a 67 percent compound annual growth rate (CAGR) between 2019 and 2021, making it one of the world's top-rated and fastest-growing e-commerce marketplaces.
In 2021, Etsy, which specialized in craft and vintage items, recorded revenues worth 2.3 billion U.S. dollars, up nearly 35 percent from the previous year. Independent sellers sell the majority of the products on Etsy.
Following are the Etsy top-selling categories in 2021:
Craft Supplies and Tools (1.7 million sales, 1.1m)
Jewelry (1.1 million)
Home and Living (550,000 total sales)
Clothing and Textiles
Wedding Items (109,000 sales)
Source: https://sellbery.com/blog/best-selling-items-on-etsy/
FACEBOOK MARKETPLACE:
In 2016, the founder of Facebook, Mark Zuckerberg, launched Facebook Marketplace, a place allowing users to buy and sell items directly through the social platform. As reported by the company, Facebook Marketplace registered more than one billion monthly global users in the first quarter of 2021. In 2020, the tech giant ventured again into e-commerce by launching Facebook Shops. Facebook marketplace allows small businesses to display their product catalogs similar to an online store. From January to March 2021, Facebook Shops reported an average of one million monthly global users and over 250 million active stores the world over.
The pandemic brought a 180-degree shift in people's shopping behaviors. Where brick-and-mortar stores suffered a major setback, owing to the closures in the wake of the pandemic-induced restrictions, e-commerce platforms manifested an unprecedented surge, which rose further in the post-pandemic times. Those aspiring to launch their successful business ventures online in 2022 should look into the above-mentioned top-rated e-commerce businesses to get a deep insight into the current market trends.